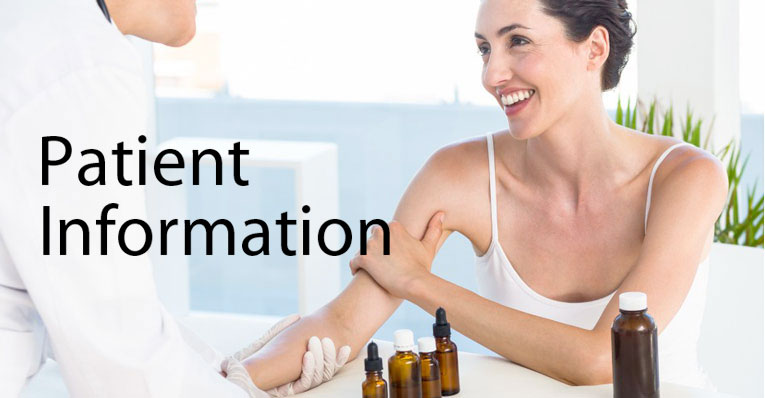 To Schedule an Appointment
Appointments to see one of our providers can be scheduled by calling our individual offices:
Our appointment schedulers will do their best to make your appointment time as convenient for you as possible.
If you are unable to keep your scheduled appointment please notify us at least 24 hours in advance.  We also ask that you make every effort to be on time for your appointment.
Before Your Visit
You should refrain from taking antihistamines for one week prior to your initial visit since they interfere with skin testing; however, if you are unable to do so due to urticaria (hives) or other reasons, we would still welcome you to come for a consultation.
Some examples of antihistamines include:
Alavert (loratidine)
Allegra (fexofenadine)
Astelin nasal spray (azelastine)
Atarax (hydroxyzine)
Atrohist (chlorpheniramine)
Benadryl (diphenhydramine)
Bromfed (brompheniramine)
Claritin (loratidine)
Clarinex (desloratadine)
Deconamine (chlorpheniramine)
Dimetapp (brompheniramine)
Kronofed (chlorpheniramine)
Nolahist/Nolamine (pheniniramine)
Omade spansule (chlorpheniramine)
Periactin (cyproheptadine)
Phenergan (promethazine)
Rynatan/Rynatuss (chlorpheniramine)
Semprex (Acrivastine)
Sinulin (chlorphenhydramine)
Trinalin (azatadine)
Tylenol Sinus/Allergy (diphenhydramine)
Vistaril (hydroxyzine)
Xyzal (levocetirizine)
Zyrtec (cetirizine)
Please read and complete all new patient forms that have been sent to you or downloaded from the link below; and bring them along with any pertinent medical records and x-rays to your first appointment. You should also bring a list of medications you may be taking or the medications themselves.
Day of Your Visit
Initial Evaluation
Your initial evaluation will last one to three hours, depending on the amount of testing needed. You will be seen by one of our physicians or our nurse practitioner, who will take a detailed medical history and perform a physical examination. The evaluation may include skin testing, spirometry, blood tests, or x-rays. The provider will review the results of these tests with you and propose a specific treatment plan. After your visit, we will send a copy of our evaluation and treatment plan to your referring physician.
Spirometry – Spirometry is a commonly performed test that measures the amount of air the lungs can hold and the rate at which air can be exhaled. It is used to diagnose conditions such as asthma and to assess response to therapy.
Skin Testing – Skin testing to determine sensitivity to a variety of substances may be done at your initial visit or scheduled for a subsequent visit. After the tests are applied, the patient should anticipate some itching. These tests are interpreted within 20 minutes.
Insurances With Which We Participate:
Aetna, Capital Blue Cross and Senior Blue, Cigna, Geisinger and Geisinger Gold, HealthAmerica, HealthAssurance and Advantra, Highmark Blue Shield and Freedom Blue, Independence Blue Cross, Keystone Health Plan Central, Medicare, Multiplan Network, PHCS Network, PPHN Network, Railroad Medicare, Tricare, UPMC, VA and VA Choice and Vibra Health.
We make every effort to keep our fees as fair as possible.  We participate with a variety of managed care plans in our community.  If you have specific questions regarding your policy, please call your insurance company or our billing office at 717.243.3103.
It is our policy to collect co-payments at the time of service, we hope you understand and will be prepared at the time of your visit.  For your convenience, co-payments and patient balances can be paid by cash, check, Visa, MasterCard, Discover and American Express.
We will do our best to work with you and your insurance carrier to arrange for payment.  However, please remember that payment for services is ultimately the patient's responsibility.
Patient Portal
Our patient portal is for established patients only.  Our patients can utilize the portal to request refills on prescriptions or to pay your bill.   A login and password are required.  Please contact our office if you did not receive an email to set up your account.